Tile Sheets Of Real Pennies - Real Penny Coin Tile

Handmade Penny Tile Sheets Crafted For YOUR Unique Project

These tile sheets of real pennies (224 pennies on each sheet) are an excellent choice for your upcoming penny project and once it's finished, it will definitely get everyone's attention and compliments.
Maybe you've already seen pictures or read articles about some people spending agonizing weeks or months gluing one penny at a time to a floor, wall or other surface. That's one way to do it - the hard way.
The process of tiling with real pennies has been made much easier and faster because you can Order Real Penny Tile (handmade interlocking tile sheets of real random pennies attached to mesh).
This picture shows how one of our penny tile sheets looks like and it comes in a size just under 1 SF (square foot). 


Each sheet has its uniqueness given the random position, shade, patina, side, year, or other details of each US penny including a canadian penny now and then.

For size comparison, the square cardboard in the picture below is exactly 12 by 12 inches. This gives you a better visual idea of the size of a penny sheet as it sits on top of the one square foot (1 SF) cardboard.




Here Are Some Projects Made By Our Customers After Ordering Their Real Penny Tile Sheets


Some of our customers really impressed us with their beautiful penny projects.  Here are just 3 of them:
 
How about this cozy fireplace surrounded by a wall of pennies from floor to ceiling...


| | |
| --- | --- |
| | ...or this unique kitchen wall covered in pennies... |
| | |
| --- | --- |
| | Here we have the penny tile sheets installed on a bathroom floor and after a few finishing touches this will be one gorgeous bath. "Hey, are those pennies? - Yes!" |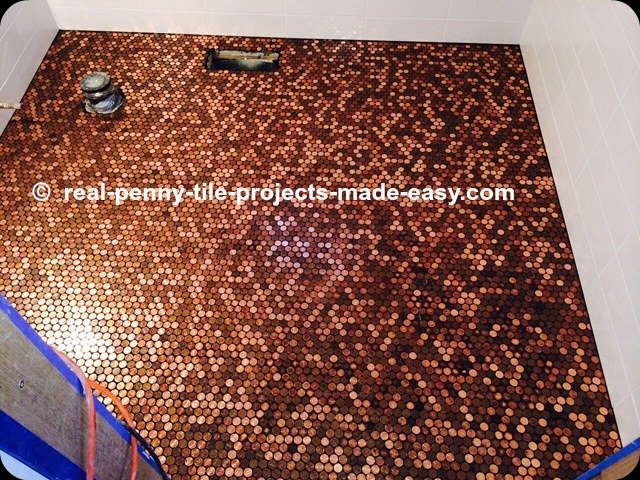 What project will you make with our tile sheets of real pennies?

We put a lot of passion and hard work in the hand-making of the penny tile sheets.

Having these sheets for your project is the equivalent of hiring many 'sets of hands' to glue penny by penny to a certain area (floor, wall, etc) for a long, long time.
In a way, we're actually doing that hard work for you.

Notice how we make sure the mesh backing follows the outline of each and every penny. It takes time to do it but it's worth giving strength to all pennies on the edges and have a clean interlocking of sheets with no mesh in the way.




Good indicators of high quality in a tile sheet of pennies:


the mesh never sticks out at the edges.


the mesh completely and fully covers the back of every single penny on all four edges/sides of each sheet. 


the pennies don't touch each other. 



the pennies are not too far away away from each other (too wide grout).




(if any pennies on the edges would not be completely covered by mesh, they would barely hang in there 'hoping' not to fall away during shipping, handling, installation)


Real Penny Tile Sheets Out Of The Box Ready For Installation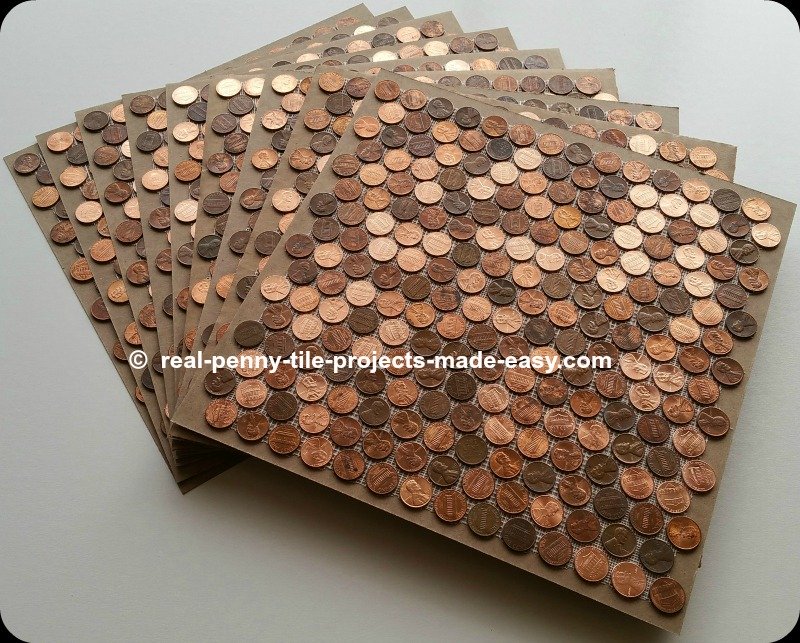 And now, let's see how the penny sheets interlock. The idea is to obtain a seamless look after placing 2 or more sheets together.
The gap/space between 2 sheets has to match the gap/space seen between pennies within a sheet. This is quite easy to do by mostly anyone when just 'playing' on the kitchen table.
It's a different story at installation time when adhesive is involved and many more sheets have to be profesionally installed on a bigger area. Good planning by the right installer can make for a beautiful penny project.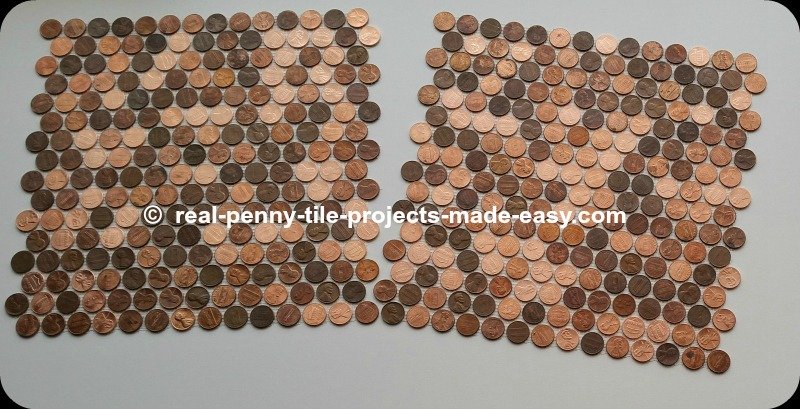 Notice how you can't tell where one tile sheet of pennies ends and another begins. 
Also, the overall gap between pennies is about 1/16th of an inch - just enough so the grout can get in and not too big so the pennies are too far from each other.
That's how we choose to manufacture/handmake the real penny tile sheets and that's why we can fit 224 pennies in less than 1 SF (more precise  .9 SF).   


After you place your order and get your own tile sheets of pennies delivered, you can place a few penny sheets on the table (like you see below) and get a feeling of what it takes to place them together for a seamless look. We call this a dry-fit.
It's a very useful step to do even in the case of a professional tile installer before installation. The actual installation is more of a challenge than 'kitchen table play' because each penny sheet has to be placed down in adhesive in the right spot to avoid major position adjustments afterwords (i.e. sliding the sheet on the glue). 

Here's an example of 12 penny tile sheets, although a regular table may not fit this many as they are almost 3 ft x 4 ft. But you can definitely try it with 6 sheets on a regular table and if you want to handle more sheets, an open area on a hard floor is a good idea but do not step on the sheets.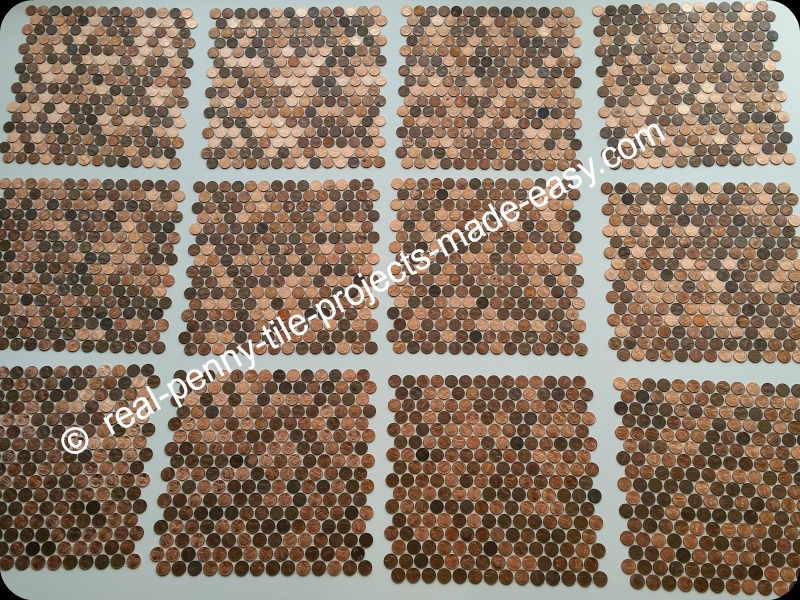 The penny sheets must get close enough to eachother but not touch eachother.
Just enough gap is needed to get the right look and for the grout to have room to go down between pennies when grouting time comes (after installation & drying).

And there we have it... twelve interlocked tile sheets made with pennies, forming the beginning of your new floor or wall. A unique kind of penny round mosaic tile.


Last 2 pictures show different angles of view of the same 12 sheets from above.
It's intresting that as you step/move around a floor covered in pennies, and depending on the light too, new pennies start shining while others seem to fade until they are seen again from the angle that can bring that spark back again.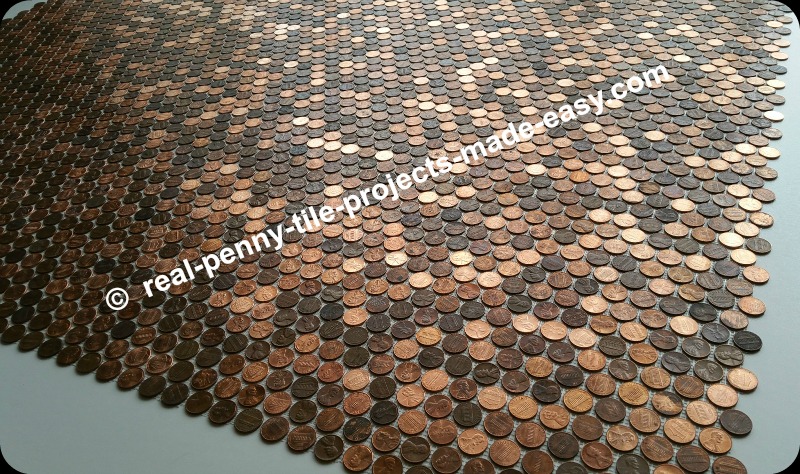 Tile shets of real pennies can offer quite the... 'change'.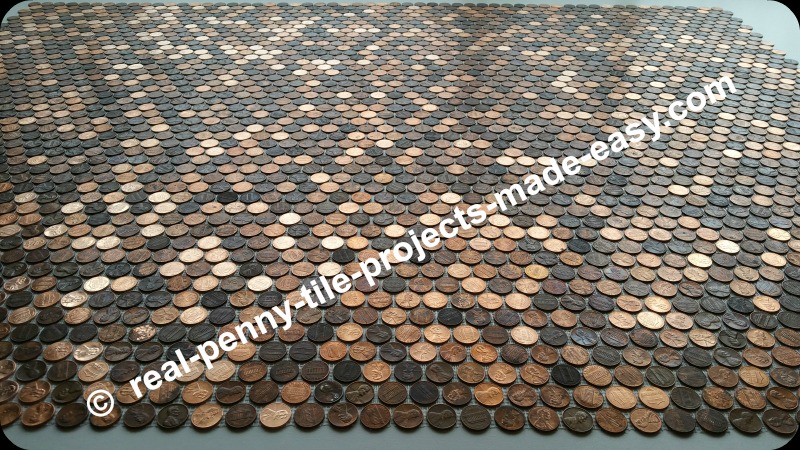 Remember, the above tile sheets of pennies are just placed on a flat surface and are not installed yet, nor grouted.
Grout will give a more complete look as you can see here: Black Grout on Pennies

This is quite the 'change'... going from gluing one penny at a time to installing hundreds of pennies at once...  224 pennies with each tile sheet, to be precise.

 Payment by Credit Card, Debit Card or PayPal.



See a small installation sample - covering a floor/wall with pennies.


Find more details about our tile sheets of pennies.



Back to TOP of this page: Tile Sheets Of Real Pennies - Real Penny Coin Tile